Vampire Peacocking (Verb): First discussed on Episode 156: Real Vampires, Vampire Peacocking is an advanced form of "Peacocking", in which the practitioner heightens his or her attire to attract even more potential mates. The idea behind this advanced technique was first showcased by Logan, Vampire Lord (King?). You must use your vampire gaze, as a pretty girl comes up to you because she wants you to feed on her in a whole bunch of different ways! And you must invoke your natural vampiric charm to bring that sexual energy to the surface and given freely to you.
And if that dosent work out, you can always use the opportunity to pitch your Vampire Fang Business.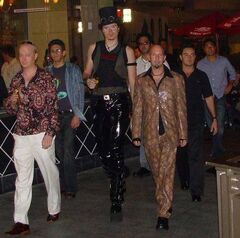 Ad blocker interference detected!
Wikia is a free-to-use site that makes money from advertising. We have a modified experience for viewers using ad blockers

Wikia is not accessible if you've made further modifications. Remove the custom ad blocker rule(s) and the page will load as expected.