Travis Irvine
Edit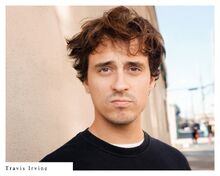 Travis Irvine is a stand-up comedian, independent filmmaker and unsuccessful politician. He has written and directed a feature-length horror/satire about killer raccoons as well as a short documentary about his own 2007 mayoral run in Bexley, Ohio. His campaign and comedy videos have been featured on The Jay Leno Show, PBS's NewsHour, The Huffington Post and Funny Or Die. He was also once on The People's Court. A recent graduate of the Columbia University School of Journalism, he is currently a contributor to The Huffington Post, HuffPo Live and .Mic, and lives and performs in New York City. Travis can currently be heard as a regular guest on Cave Comedy Radio Shows "Abe Lincoln's Tophat" and "The Round Table of Gentleman".
Ad blocker interference detected!
Wikia is a free-to-use site that makes money from advertising. We have a modified experience for viewers using ad blockers

Wikia is not accessible if you've made further modifications. Remove the custom ad blocker rule(s) and the page will load as expected.