Overview
Edit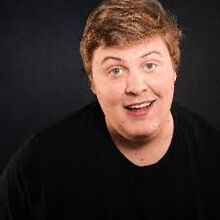 Sebastian Conelli (AKA "The Giggle Guy" AKA "Mr. Sebastian") is a hilarious Swedish-Italian American comedian and frequent guest-host of The Unbelievable Podcast. He is 8 feet tall[1] and has a Long Island accent that makes people from Long Island say "that guy has an accent". His iconic laugh has won the hearts of millions across our globular and/or flat earth. If you see his mother please tell her he is a good man.
Fun Facts
Edit
Sebastian:
- isn't afraid of anything[2]
- is stronger than a little girl[3]
- has taken Unbeliever 'Kimmy Beebop' under his wing, guiding her to become a top Poll Results respondent[4]
References
Edit
Ad blocker interference detected!
Wikia is a free-to-use site that makes money from advertising. We have a modified experience for viewers using ad blockers

Wikia is not accessible if you've made further modifications. Remove the custom ad blocker rule(s) and the page will load as expected.