For the alternate reality counterpart, please see 
Brian Frange (alternate reality)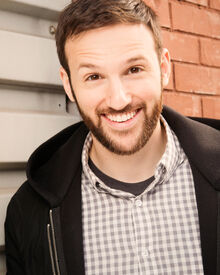 Brian Frange commonly referred to as "Hollywood", "LA Brian", or "Brain Frange" is the Co-Host and Founder of The Unbelievable Podcast. The mild mannered Brain is a Disinformation Agent working as a Digital Producer at Not Safe with Nikki Glaser and as a comedian. Currently living in Los Angeles, California having originally emerged from Wantagh, New York.
Likes:
A good time
Pussy?
Jokes
SweeTango apples
Dislikes:
Frequently asks for T-Shirt money. In episode 178, at 51 minutes in, it had been revealed that Brian had refused to give Sebastian an Unbelievable Podcast sticker, that came with said t-shirts, and later burned it. Phoebe notes, "That's NY Brian, though, now it's LA Brian, [he] wants to give out stickers."
Ad blocker interference detected!
Wikia is a free-to-use site that makes money from advertising. We have a modified experience for viewers using ad blockers

Wikia is not accessible if you've made further modifications. Remove the custom ad blocker rule(s) and the page will load as expected.